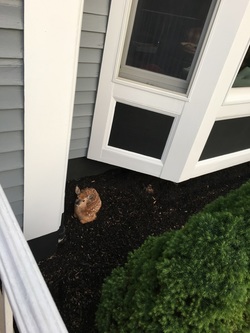 This sweet little fawn hunkered down beside our front stoop waiting patiently for her mother to return from her morning outing. I have come to learn that this is what does do, place their babies in a safe location at
dawn and dusk while they go out to feed. One must never touch or move the fawn, unless it is in
immediate peril. This little fawn was not.

About two hours later, I spotted the mother at the bottom of our hill looking for her baby, only her baby
had wisely moved into some brush in order to avoid the increasingly hot sun. Although I was unable to
stay and watch the reunion, I have complete faith that reunite they did. The wide-eyed expression on
the fawn's face, and her relaxed demeanor, spoke to her complete trust in her mother's return. Mother
​ Doe's bright and committed gaze spoke of the bond to her offspring that could never be broken.
---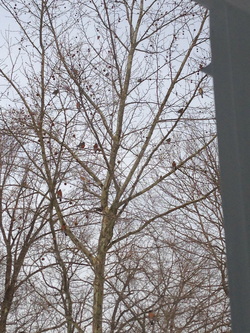 Robins filled the branches above our bird feeder today. Quite a sight for the first week of February! (Note to self - still need camera with zoom).
---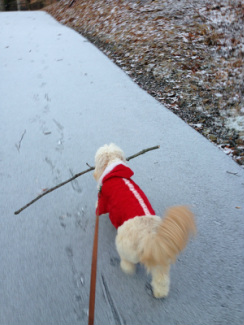 "Speak softly, and carry a big stick." TR
---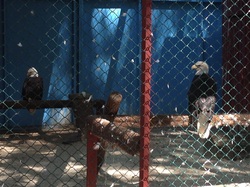 Injured but still proud.
---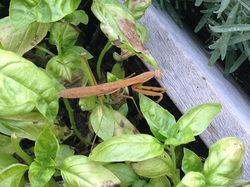 I hope he's praying for our basil!
---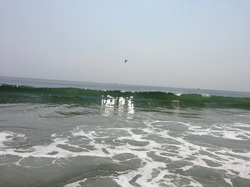 "This throbbing of waves, this quickened pulse, this pulling in and pushing off of the waves upon the gritty turf of the beach over legions of time had caused the smallest rocks scattered across its length (for this was a rocky beach as is the case with most New England beaches) to be polished smooth as the inside slope of a plover's egg, luminescent, in the palm of a child's damp, salted hand, as a burgeoning moon on a cloudless night.

"Only a storm unveils the truth, what lies caged beneath the smooth blue sheet."

"It's about us, all of us, and none of us. About a moment, just like this."
~ The Question of a Valuable Life

---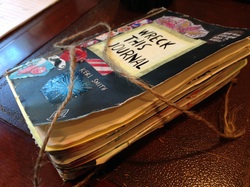 I now understand. So impressed with this childhood summertime obsessive creation!
---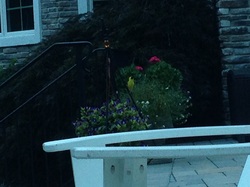 New Jersey's gorgeous state bird, the Eastern Goldfinch. Note to self - need camera with zoom.
---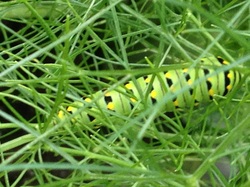 Upon the herbs, within the grass. Let this future
Swallowtail
pass!
---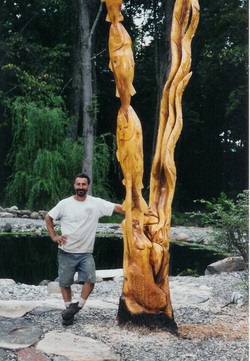 This is my big brother, Greg. He is a metal and wood sculptor of extraordinary ability. He is also an amazing human being who inspires me now just as he did when we were kids. Greg just completed a metal lawn serpent, commissioned by a very special client, that blows the mind.
Watch Greg in action in The Making of the Lawn Serpent!
You can also visit his website at:
studioon12.com
---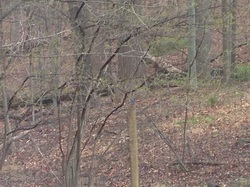 Look very, very closely…bluebird sighting! It is a flash of Prussian blue against nature's earth.
---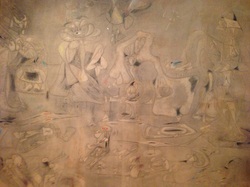 Gorky's, "Summation" at MOMA. Love the texture, complexity and smokiness. One can feel the stories moving on the canvas.
---
Christmas tree decorated by nature: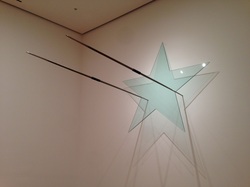 "Crystal Star with Javelins" by Gilberto Zorio. Powerful. Has me thinking in terms of a structure onto which I can wrap the narrative thread of my next novel.
---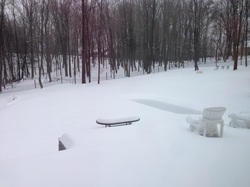 Snow day...again! Nothing to do but read, write and eat! And wonder, "What does the fox say?".
---